Original H. R. Giger 'Brain Salad Surgery' Paintings missing
Click here to read about this story directly on H.R. Giger's web site.
---
Here's the original article that I got about this topic...
Though I don't know German, it appears that this article from the 5 November 5 2005 (Saturday) edition of 'Tages Anzeiger' indicates that the original H. R. Giger paintings that were used as the cover art for ELP's Brain Salad Surgery album disappeared after an exhibition. Anyone having information seems to be asked to contact the Zurich police at 044-247-22-11.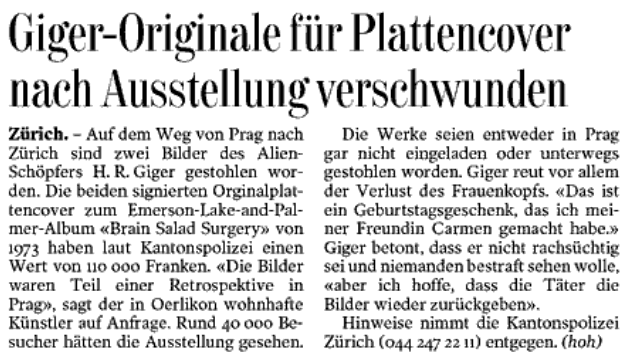 And here's an approximate translation in English:
"Giger originals for album cover arts after exhibition disappeared
Zurich. - On the way from Prague to Zurich, two pictures of the creator of Alien, H.R. Giger, have been stolen. The two signed original covers for the Emerson, Lake and Palmers album "Brain Salad Surgery" from 1973 have, according to the Zurich police, a value of Swiss Francs 110,000. "The pictures were part of a retrospective in Prague" says the artist, who lives in Oerlikon (comment: a suburb of Zurich). About 40,000 people visited the exhibition. The works either were not loaded in Prague or were stolen on the transport. Giger suffers first of all the loss of the woman head. "This was a birthday present, which I made for my girlfriend Carmen". Giger points out, that he doesn't want revenge and nobody should be punished, "but I hope the thieves will give back the pictures". Any information is welcomed by the police of Zurich (+41 44 247 22 11, comment: this includes the country code for Switzerland)."
Thanks to Richard K. for sending this information to brain-salad.com!
---
Comments? Visit Customer Service Page.
Updated: 02-Jan-2012